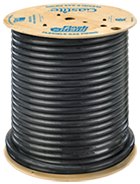 FlashShield® System Corrugated Stainless Steel Tubing (CSST)
Application
FlashShield Corrugated Stainless Steel Tubing (CSST) supplies natural gas or LP gas to appliances. FlashShield is a reliable, lightning-resistant system that can be installed in all modes of construction. Flexibility and no additional bonding means quick and easy installations: FlashShield installs 30-70% faster than traditional piping methods.
CSST flexible gas piping supplies natural gas or liquefied petroleum gas to appliances.
Materials / Specification
Tubing: ASTM A240 Type 304 321 Stainless Steel
Jacket: UV resistant Polyethylene complying with requirements of ASTM E84 Index for Flame and Smoke.
Features & Benefits
FlashShield Offers All the Benefits of Flexible Gas Piping, with Superior Lightning
Protection.
Only metallically-shielded CSST on the market
Only product that meets strict criteria of both LC1024 & LC1027
Highest lightning resistivity
Multiple layers of protection
Corrosion tested & approved
No additional manufacturer bonding required
Flexibility and durability allows for simple routing through complex building structures and designs.
Pre-marked by the foot for easy measuring and installation.
Minimum tubing wall thickness of .010 on all sizes is more robust than other brands of CSST.
Annealed 304 stainless steel makes tubing more flexible than brands not heat-treated.
Code/Specifications
CSA Certificate 1009875
ICC-ES Report No. PMG 1066 and PMG 1155
IAPMO: File No. C-3250 and Report No. 0239
Engineering Specs
(PDF 152kB)

FlashShield® System Corrugated Stainless Steel Tubing (CSST)
no product categories specified within Parts
Query failed SELECT * FROM module_newsdatabase WHERE siteid='www.gastite.com' AND sectionid = 'Product Categories' AND active = 'true' AND deleted != 'true' AND newsid =