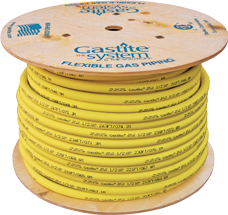 Privacy Policy
The following Privacy Policy describes the privacy practices and corresponding policies for Gastite and Gastite.com where your personal information is collected by, or on behalf of, Gastite. When you provide us with your personal information, you consent to the information practices described in this policy.
This Privacy Policy may not apply to Web sites that are accessible through the Gastite site. The Gastite Web site contains links to other sites operated by third party companies and organizations and we encourage you to read their privacy policy on the collecting, using and sharing of personal information.
When Does Gastite.com Collect Personal Information Online?
Gastite only collects information when the user submits one of the request forms found on the Web site. These forms include Commercial Binder Request, AutoCAD Sizing Utility Request and the general Contact Us to respond to any questions the user might have concerning Gastite, its products, and services. Information collected by Gastite will be used to fulfill requests for products, services or information.
This policy also pertains to Gastite-Certified Distributors wishing to place orders through the Web site. The information will be used for fulfillment and shipping of the order. Distributors wishing to purchase Gastite products and promotional materials through the Web site will be provided with a username and password to obtain access to this restricted area.
All requests and orders for products and promotional materials are fulfilled solely by Gastite and not by any third party organizations.
Gastite Does Not Share Personal Information with Third Party Companies.
Gastite does not rent, sell or exchange your name or any other personally-identifiable information to third-party companies or organizations for any purposes. Our definition of a third party is an individual or organization outside of Gastite.
At this time, Gastite does not use cookies to track activity of submitted information on the Web site. A cookie is a small data file that a Web site or e-mail may send to your browser, which may then be stored on your hard drive.
Will This Privacy Policy Change?
Because Gastite will continue to implement new technologies and improve the services and features we provide, this policy is subject to change. If there are changes or additions to this Privacy Policy, we will post those changes here for you to review.
Last revision date: August 3, 2005