The FlashShield System
FlashShield+™ flexible gas piping delivers industry leading household fault current and lightning protection. It utilizes a metallic-shield within its protective jacket to handle hi-voltage risks associated with lightning strikes as well as dielectric jackets for lower voltage associated with household fault current. The system uses XR3 fittings specifically designed for use with FlashShield+ CSST and the complete system eliminates the manufacturer's requirement for direct-bonding.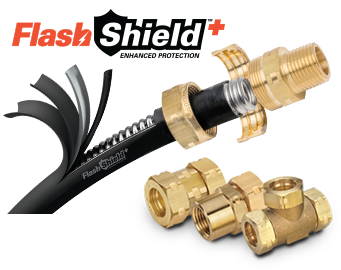 FlashShield+™ Corrugated Stainless Steel Tubing (CSST) supplies natural gas or LP gas to appliances. FlashShield+ is a reliable, lightning and household fault current resistant system that can be installed in all modes of construction. The protective jacket system of FlashShield+ utilizes the Arc-Trap™ feature of the XR3 fitting to deliver energy to ground.

Manifolds provide central distribution point for individual runs to each appliance.

XR3 fittings are designed with a metal-locking feature for FlashShield and Arc-Trap™ feature for FlashShield+. These create protection against hi-voltage risk associated with lightning strikes. The exclusive, patented Jacket-Lock™ fitting eliminates exposed stainless steel beyond the nut. The XR3 fitting requires minimal torque for easy fitting installation. With no o-rings or gaskets, the reusable brass components provide a reliable metal-to-metal seat.

Where flexible gas piping passes through structural members and is restricted from moving to avoid potential puncture threats, Gastite® recommends striker plates for protection. Steel conduit is also available to provide additional protection where striker plates cannot be easily installed.

The FlashShield Modular Stub System creates a fixed point "stub-out" on a wall or floor surface for meter and appliance attachment. Reducing the number of joints in the system where "stub-outs" are typically fabricated from rigid pipe nipples, elbows and couplings, the Modular Stub System is aesthetically pleasing and a time saver.

Quick-Connect valve and accessories provide a safe and easy "quick-connect" for barbecue grills, space heaters and decorative lighting. Recessed mounted quick connect boxes are available in stainless steel.Use quality shut-off ball valves to control gas flow to appliances and pounds-to-inches regulators.

Termination brackets, rooftop blocks, recessed gas outlet boxes, and manifold brackets. Everything needed to properly and conveniently install FlashShield flexible gas piping in commercial, industrial and residential applications.

Tubing Cutters, fitted with cutting wheels designed to cut stainless steel, create clean cuts for optimal flaring of tubing.





The Pipe Support System effectively anchors and supports lightweight CSST, as well as other fuel gas piping materials to any roofing membrane.

Gastite offers Maxitrol, Pietro Fiorentini, and OARA regulators for use in elevated pressure systems (in excess of 1/2 psi) to reduce pressure to standard appliance use levels. Outdoor vent protectors and vent line protectors for end termination are also available.

Adhesive Labels for are offered to identify elevated pressure systems, as well as metal tags for Uniform Plumbing Code compliance.