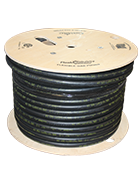 FlashShield+™ System Corrugated Stainless Steel Tubing (CSST)
Application
FlashShield+™ Corrugated Stainless Steel Tubing (CSST) supplies natural gas or LP gas to appliances.
Materials / Specification
Tubing: ASTM A240 Type 304 321 Stainless Steel.
Jacket: Electrically insulative and UV resistant polymer, complying with requirements of ASTM E84 and CAN/ULC-S102.2 25/50.
Protective jacket system complies with ICC-ES PMG LC1027.
Features & Benefits
Electrically insualtive polymer cover.
Metallically shielded CSST.
Arc-Trap™ feature of XR3 fitting delivers energy safely to ground.
Metal shield layer dissiates and conducts electricity.
No manufacturer required bonding.
Flexibility means quick and easy installations. FlashShield+ installs 30-70% faster than traditional piping methods.
Pre-marked by the foot, there's no measuring, rigid pipe cutting or threading. This means less waste and fewer fittings.
75% fewer fittings in the average installation means a safer system, less leak potential and reduced callbacks.
FlashShield+ CSST is lightweight - 250 feet of 1/2 inch CSST weighs approximately 50 lbs and can be easily transported and handled on the job.
Call Customer Service for custom lengths of tubing and job-specific accessories.
Code/Specifications
CSA Certificate 1009875
ICC-ES Report No. PMG 1066 and PMG 1155
IAPMO: File No. C-3250 and Report No. 0239
FlashShield+™ System Corrugated Stainless Steel Tubing (CSST)
FlashShield+ 1/2" Corrugated Stainless Steel Tubing (CSST)

| Part No. | Description | Pkg. Qty. | Lb./Box |
| --- | --- | --- | --- |
| FSP-8-25-5   | 1/2" FlashShield+ Corrugated Stainless Steel Tubing | 25 Ft/Coil (5/Box) | 23 lbs. |
| FSP-8-50   | 1/2" FlashShield+ Corrugated Stainless Steel Tubing | 50 Ft/Box | 8.3 |
| FSP-8-125   | 1/2" FlashShield+ Corrugated Stainless Steel Tubing | 125 Ft/Coil | 28.8 |
| FSP-8-250   | 1/2" FlashShield+ Corrugated Stainless Steel Tubing | 250 Ft/Coil | 49.5 |
| FSP-8-500   | 1/2" FlashShield+ Corrugated Stainless Steel Tubing | 500 Ft/Coil | 95 |
| FSP-8-1000   | 1/2" FlashShield+ Corrugated Stainless Steel Tubing | 1,000 Ft/Coil | 187 |
| FSP-8-1500   | 1/2" FlashShield+ Corrugated Stainless Steel Tubing | 1,500 Ft/Coil | 270 |
FlashShield+ 3/4" Corrugated Stainless Steel Tubing (CSST)

| Part No. | Description | Pkg. Qty. | Lb./Box |
| --- | --- | --- | --- |
| FSP-11-25-5   | 3/4" FlashShield+ Corrugated Stainless Steel Tubing | 25 Ft/Coil (5/Box) | 29 lbs. |
| FSP-11-50   | 3/4" FlashShield+ Corrugated Stainless Steel Tubing | 50 Ft/Box | 10.5 |
| FSP-11-125   | 3/4" FlashShield+ Corrugated Stainless Steel Tubing | 125 Ft/Coil | 34.1 |
| FSP-11-250   | 3/4" FlashShield+ Corrugated Stainless Steel Tubing | 250 Ft/Coil | 64.3 |
| FSP-11-500   | 3/4" FlashShield+ Corrugated Stainless Steel Tubing | 500 Ft/Coil | 116.5 |
| FSP-11-1000   | 3/4" FlashShield+ Corrugated Stainless Steel Tubing | 1,000 Ft/Coil | 230 |
FlashShield+ 1" Corrugated Stainless Steel Tubing (CSST)

| Part No. | Description | Pkg. Qty. | Lb./Box |
| --- | --- | --- | --- |
| FSP-16-50   | 1" FlashShield+ Corrugated Stainless Steel Tubing | 50 Ft/Box | 23.4 |
| FSP-16-75   | 1" FlashShield+ Corrugated Stainless Steel Tubing | 75 Ft/Coil | 31 |
| FSP-16-75   | 1" FlashShield+ Corrugated Stainless Steel Tubing | 75 Ft/Coil | 31 |
| FSP-16-150   | 1" FlashShield+ Corrugated Stainless Steel Tubing | 150 Ft/Coil | 58.1 |
| FSP-16-300   | 1" FlashShield+ Corrugated Stainless Steel Tubing | 300 Ft/Coil | 104.1 |
| FSP-16-500   | 1" FlashShield+ Corrugated Stainless Steel Tubing | 500 Ft/Coil | 174.5 |
FlashShield+ 1-1/4" Corrugated Stainless Steel Tubing CSST

| Part No. | Description | Pkg. Qty. | Lb./Box |
| --- | --- | --- | --- |
| FSP-20-50   | 1-1/4" FlashShield+ Corrugated Stainless Steel Tubing | 50 Ft/Coil | 28 |
| FSP-20-75   | 1-1/4" FlashShield+ Corrugated Stainless Steel Tubing | 75 Ft/Coil | 37 |
| FSP-20-150   | 1-1/4" FlashShield+ Corrugated Stainless Steel Tubing | 150 Ft/Coil | 69 |
| FSP-20-300   | 1-1/4" FlashShield+ Corrugated Stainless Steel Tubing | 300 Ft/Coil | 135 |
FlashShield+ 1-1/2" Corrugated Stainless Steel Tubing CSST

| Part No. | Description | Pkg. Qty. | Lb./Box |
| --- | --- | --- | --- |
| FSP-24-50   | 1-1/2" FlashShield+ Corrugated Stainless Steel Tubing | 50 Ft/Coil | 48 |
| FSP-24-75   | 1-1/2" FlashShield+ Corrugated Stainless Steel Tubing | 75 Ft/Coil | 35 |
| FSP-24-150   | 1-1/2" FlashShield+ Corrugated Stainless Steel Tubing | 150 Ft/Coil | 91 |
| FSP-24-300   | 1-1/2" FlashShield+ Corrugated Stainless Steel Tubing | 300 Ft/Coil | 177 |
FlashShield+ 2" Corrugated Stainless Steel Tubing CSST

| Part No. | Description | Pkg. Qty. | Lb./Box |
| --- | --- | --- | --- |
| FSP-32-50   | 2" FlashShield+ Corrugated Stainless Steel Tubing | 50 Ft/Coil | 72 |
| FSP-32-75   | 2" FlashShield+ Corrugated Stainless Steel Tubing | 75 Ft/Coil | 89 |
| FSP-32-150   | 2" FlashShield+ Corrugated Stainless Steel Tubing | 150 Ft/Coil | 143 |