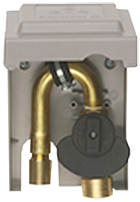 Quick Connects & Accessories
Application
Ball Valves are used to control gas flow to appliances and pounds-to-inches regulator.
Quick-Connect valve and accessories provide a safe and easy "quick-connect" for barbecue grills, space heaters and decorative lighting.
Materials / Specification
Ball Valve - ANSI/ASME B16.33.
Quick Connect and Accessories – ANSI Z21.15, CAN 9.1,9.2, 6.9 and AGA/CGA 7-90/CR94-001.
Features & Benefits
Ability to shut off individual run for maintenance without shutting down complete systems
Clean appearance
CSA certified
Quick Connects & Accessories
Quick Connect and Accessories

| Part No. | Description | Pkg. Qty. | Lb./Box |
| --- | --- | --- | --- |
| OUTFLEX-3/8   | Outdoor Flex Connector - 3/8" NPT x 10' | 1 Ea. | 2.4 |
| QCBOXPG   | 1/2" Quick Connect Box Grey PVC - Surface Mounted | 1 Ea. | 1.6 |
| QCBOXPW   | 1/2" Quick Connect Box White PVC - Surface Mounted | 1 Ea. | 1.6 |
| QCBOXSS   | 1/2" Quick Connect Box Stainless Steel - Recessed Mounted | 1 Ea. | 2.3 |
| T103029   | 1/2" Quick Connect Valve | 1 Ea. | 1.0 |
Shut-Off Valves

| Part No. | Description | Pkg. Qty. | Lb./Box |
| --- | --- | --- | --- |
| T100-1-1/4-5   | 1-1/4" Ball Valve rated to 125 psi | 5/Box | 11.0 |
| T100-1/2-20   | 1/2" Ball Valve rated to 125 psi | 20/Box | 10.0 |
| T100-3/4-10   | 3/4" Ball Valve rated to 125 psi | 10/Box | 8.0 |
| T90-1/2-10   | 1/2˝ 90 Degree Shut-Off Valve | 10/Box | 4.6 |
| T90-3/4-10   | 3/4" 90 Degree Shut-Off Valve 10/Box | 10/Box | 7.7 |