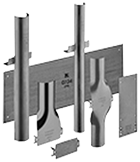 Protection & Bonding
Application
Striker Plates
Striker plates used for protection where flexible gas piping passes through structural members and is restricted from moving to avoid nails, screws and other potential puncture threats.
Steel conduit is used to provide additional protection where striker plates cannot be easily installed.
Bonding
For attachment to the FlashShield™ CSST gas piping system, a single bonding clamp must be attached to either a segment of steel pipe, a rigid pipe component or to the XR3 brass hex fitting. For attachment to a segment of steel pipe or a rigid pipe component any bonding clamp listed to UL467 may be used. For attachment to a XR3 hex fitting clamps manufactured by Erico (part number CWP1JSH for 3/8" & 1/2", CWP2JSH for 3/4" thru 1 1/4" and CWP3JSH for 1 1/2" & 2") must be used.
Materials / Specification
Striker Plates
Striker Plates – 16 gauge AISI1050 Carbon Steel Hardened to Rc 45.
Steel Conduit – Strip wound interlocking steel.
Bonding clamps are listed to UL467 for use on XR3 hex fittings.
Bonding
Solid Brass Body. Stainless Steel Screws.
Features & Benefits
Bonding
Bonding clamps are rated for outdoor use.
Code/Specifications
Bonding
Bonding clamps are listed to UL467 for use on XR3 hex fittings. For more information visit: http://www.erico.com/products.asp
Engineering Specs
Strike Plates (PDF 70kB)

Steel Conduit (PDF 182kB)

Protection & Bonding
Bonding Clamps

| Part No. | Description | Pkg. Qty. | Lb./Box |
| --- | --- | --- | --- |
| CWP1JSH   | Bonding Clamp for 3/8" and 1/2" CSST | 1 Ea. | 0.16 |
| CWP2JSH   | Bonding Clamp for 3/4", 1" and 1-1/4" CSST | 1 Ea. | 0.34 |
| CWP3JSH   | Bonding Clamp for 1-1/2" and 2" CSST | 1 ea. | 1.02 |
Steel Conduit - Coil

| Part No. | Description | Pkg. Qty. | Lb./Box |
| --- | --- | --- | --- |
| FLOPPY12   | 3/4" Coil steel conduit - Fits 3/8" CSST | 50 Ft/Coil | 8.4 |
| FLOPPY16   | 1" Coil steel conduit - Fits 1/2" CSST | 50 Ft/Coil | 13.1 |
| FLOPPY20   | 1-1/4" Coil steel conduit - Fits 3/4" CSST | 25 Ft/Coil | 11.0 |
| FLOPPY24   | 1-1/2" Coil steel conduit - Fits 1" CSST | 25 Ft/Coil | 13.1 |
| FLOPPY28   | 1-3/4" Coil steel conduit - Fits 1-1/4" CSST | 25 Ft/Coil | 16.5 |
| FLOPPY36   | 2-1/4" Coil steel conduit - Fits 1-1/2" CSST | 25 Ft/Coil | 28.2 |
| FLOPPY48   | 3" Coil steel conduit - Fits 2" CSST | 25 Ft/Coil | 36.0 |
Steel Conduit - Length

| Part No. | Description | Pkg. Qty. | Lb./Box |
| --- | --- | --- | --- |
| LFLOPPY-12-50   | 3/4" - Cut to 1 foot length - Fits 3/8" CSST | 50/Box | 9.3 |
| LFLOPPY-16-50   | 1" - Cut to 1 foot length - Fits 1/2" CSST | 50/Box | 19.0 |
| LFLOPPY-20-25   | 1-1/4" - Cut to 1 foot length - Fits 3/4" CSST | 25/Box | 11.8 |
| LFLOPPY-24-25   | 1-1/2" - Cut to 1 foot length - Fits 1" CSST | 25/Box | 14.4 |
| LFLOPPY-28-25   | 1-3/4" - Cut to 1 foot length - Fits 1-1/4" CSST | 25/Box | 17.0 |
| LFLOPPY-36-25   | 2-1/4" - Cut to 1 foot length - Fits 1-1/2" CSST | 25/Box | 28.8 |
| LFLOPPY-48-25   | 3" - Cut to 1 foot length - Fits 2" CSST | 25/Box | 37.0 |
Self Bonding Silicone Tape

| Part No. | Description | Pkg. Qty. | Lb./Box |
| --- | --- | --- | --- |
| SIL-TAPE   | Self Bonding Silicone Yellow Tape - 1" x .015" x 12 yd / roll | 1 Ea. | 0.3 |
| SIL-TAPE-B   | Self Bonding Silicone Black Tape - 1" x .015" x 12 yd / roll | 1 Ea. | 0.3 |
Striker Plates

| Part No. | Description | Pkg. Qty. | Lb./Box |
| --- | --- | --- | --- |
| TFM201-50   | Half Striker Plate - 3" x 7" | 50/box | 15.5 |
| TFM203-50   | Three-Quarter Striker Plate - 3" x 8" | 50/box | 20.0 |
| TFM204-100   | Quarter Striker Plate - 3" x 2" | 100/Box | 8.0 |
| TFM205-25   | Full Striker Plate - 3" x 12" | 25/box | 13.8 |
| TFM210-10   | 6" x 17" Striker Plate | 10/box | 19.0 |
| TFM211-25   | Full (Drop-In) Striker Plate - 1/2" & 3/4" CSST | 25/Box | 11.0 |
| TFM212-25   | Full (Drop-In) Striker Plate - 1" & 1 1/4" CSST | 25/Box | 16.0 |